Whitefish Bay is a coveted village with a shoreside location along Lake Michigan. Although it's only seven miles away from Milwaukee's amenities, there's plenty to see and do within the village itself. Partnering with local agents like Katie Corcoran is the best way to get top-notch insight into everything the area offers its residents. Whether visiting for the weekend or looking at Whitefish Bay homes for sale, be sure to stop by the quaint village of Whitefish Bay.
The best way to explore local merchants in the village is to visit Merchants of Whitefish Bay along Silver Spring Drive. This outdoor retail district provides unique and upscale shopping, attentive services, and delicious venues to dine in or eat on the go. Afterward, treat yourself at Breadsmith. This bakery specializes in artisan breads and treats made from scratch.
The Merchants of Whitefish Bay include a range of businesses specializing in fashion, home décor, outdoor gear, children's toys, and much more. Fall in love with original artwork and limited prints at Gallery 505. Gallery 505 brings together a selection of more than 60 North American and European artists to offer their acclaimed art right here in the Milwaukee area. Schwanke-Kasten Jewelers offers elegant, one-of-a-kind pieces perfect for special occasions.
Here are 6 places we think you should visit while shopping in the Village of Whitefish Bay.
1. Aster and Ivy
338 E Silver Spring Dr, Whitefish Bay, WI 53217
Stay stylish while looking for Whitefish Bay houses for sale by shopping at
Aster and Ivy
. This women's boutique showcases a range of feminine and timeless pieces for the modern woman. The chic exterior invites guests into its warm-toned interior. The polished design features a rustic leaning with its cowhide rug and cowgirl offerings. Shop for jeans hanging against an exposed brick wall, or deck yourself out with turquoise rings.

Aster and Ivy offers a range of stylish tops, bottoms, and outerwear. Stay cozy with the Bridget Style Pullover with a snap-button turtleneck that's easy to adjust to your preferences. Go casual or classy with dress selections, or find your new favorite denim. Accessories include a mix of belts, scarves, jewelry, and bags to complete your outfit. Their candle selection is elegant yet relatable, with a blend of delicious scents.
2. Sendik's Gift Shop
500 East Silver Spring Drive, Whitefish Bay, WI 53217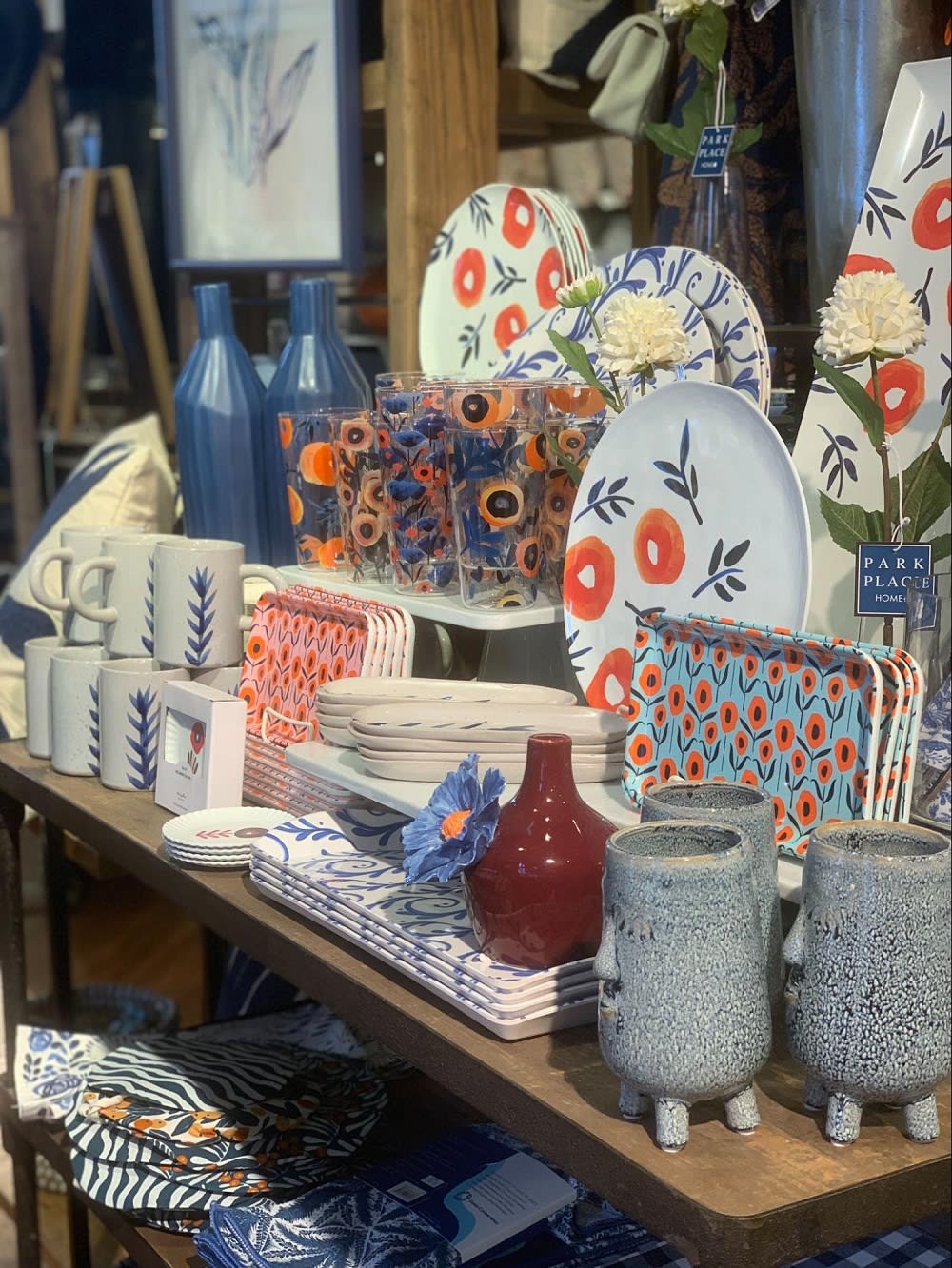 Sendik's is a local grocery store that is known for their fresh produce, great meats, and quaint atmosphere. But don't miss their adorable gift shop, which boasts items like kitchen decor, glassware, and party supplies. It's the perfect place to pick up a hostess gift or a get-well trinket. They have tons of regional decor to choose from to help style your Whitefish Bay home in a "lake life" fashion.
In addition to gifts and groceries, they also have a floral section which is a great option for getting a bouquet or gift piece for special events. Having originally started as a fruit and vegetable wagon back in 1926, Sendik's has a fun history and a family-friendly feel. Over the years, they've branched out with additional locations throughout the area, but the Whitefish Bay location has been a staple since its opening in 1949.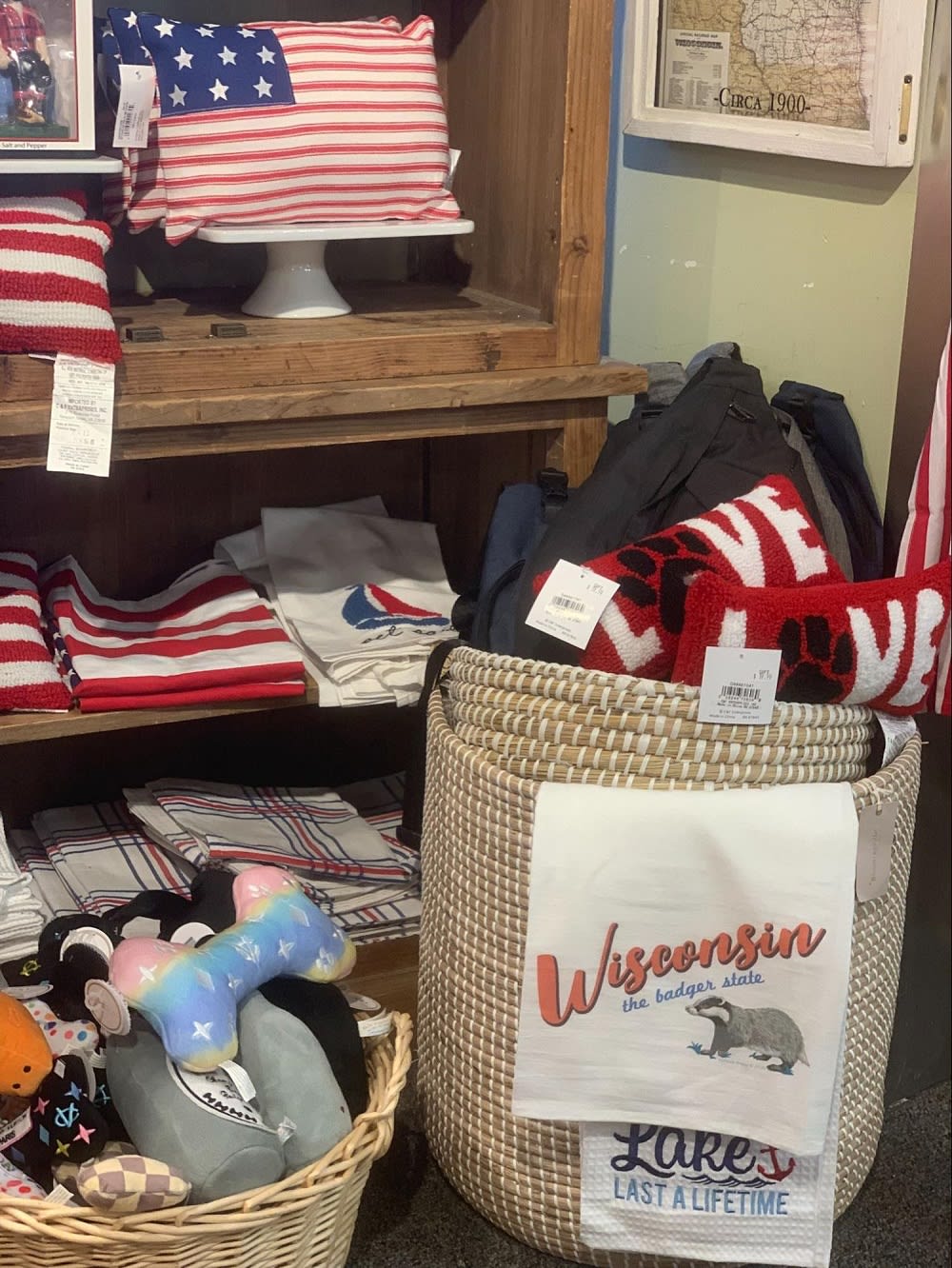 3. The Navy Knot
308 E Silver Spring Dr, Whitefish Bay, WI 53217
For a fresh spin on classic American women's apparel, stop by
The Navy Knot
. Fashion here offers a head-to-toe look, emphasizing modern sophistication and ease. Pieces are designed for versatility and are easy to mix and match while feeling like strong selections on their own. Peruse a curated offering of 100+ American and European designers. The cuts, styles, and designs are built to withstand the quickly cycling trends of fashion.

Explore The Navy Knots' sweater styles. Travel back in time with the Retro ½ Zip Sweater, or go for warmth and class with the Cashmere Poncho. Tops span from elegantly draping blouses with a chic shine to an upscale take on the plaid button-down. Search the luxurious Julie Vos Collection for a gold statement piece inset with a range of stones and gems, or view their selection of home goods to incorporate a touch of color in your Whitefish Bay luxury home.
4. Yellow Wood
401 E Silver Spring Dr, Whitefish Bay, WI 53217
Yellow Wood
is the premier outdoor gear boutique of Whitefish Bay. This locally-owned shop infuses its passion for adventure, the environment, and the village into the gear it provides. Products featured in the store are designed to stand the test of time, even for the most extreme adrenaline junkies. Gear here is also suitable for less strenuous adventures, like strolling through the village's tree-lined streets. Rest easy knowing that your equipment has likely been tested by the store owners or employees.

The selection of brands has been carefully curated by the stores' owners, and many support efforts of environmental responsibility and philanthropy. Shop brands including Chaco, Mammut, Voormi, Arc'Teryx, and more. Outdoor lovers looking at real estate in Whitefish Bay, WI, will find a haven in this store.
5. Burke Candy
513 E Silver Spring Dr, Whitefish Bay, WI 53217
End a day of shopping by grabbing a sweet treat at
Burke Candy
. Burke Candy is the effort of three generations working for 80+ years perfecting the craft of gourmet confections. The irresistibly sweet smell that wafts through the front door comes from their high-quality chocolates, caramels, toffees, truffles, and confections. Explore their mix of traditional offerings and new creations made in small batches with delectable ingredients. Grab select barks, brittles, and Flying T's, or purchase a box of goodies from their signature collection.
6. Fringe Interior Design & Home Furnishings
133 E Silver Spring Dr, Whitefish Bay, WI 53217
Finding furnishings that make your Whitefish Bay, WI, real estate feel like home is a breeze when visiting
Fringe
. Fringe provides its customers with a fine selection of high-quality pieces and specializes in customizing fabric and leather to suit your design tastes. The team is skilled at tapping into your own personal style and finding pieces to match it. Whether you're looking for a comfortable lounge chair or a wooden side table, Fringe is sure to have it.

Find home décor items exclusively offered at Fringe, or enlist the store's designers to help you find what you're looking for. Warm up a room with custom finishes for blinds, drapes, and shades. Fringe also provides area rugs in a range of sizes, colors, designs, and textures. Pair a rug for the room with one of their bedding sets, which are just as customizable as the rest of the store's offerings.
Shop at these Whitefish Bay spots
The shopping in Whitefish Bay pops along Silver Springs Drive. Scan through all the local merchants in the area at Merchants of Whitefish Bay. Then, peruse the shops and stores specializing in women's fashion, custom home furnishings, outdoor gear, and more. The shopping scene is only one of the many features that make living in Whitefish Bay so exciting. To help you explore the rest of what the village has to offer, partner with a local agent at
Corcoran Realty & Co
. They can provide
expert guidance
to help you find a home you'll love.
*Header photo courtesy of Unsplash